Today everything we buy, say, or do is quickly followed by the word VIRTUAL!
In an incredibly short time, the majority of us have gone from being neophytes in the "Virtual World" to full-blown experts. We now spend more time choosing our virtual backgrounds than getting dressed. Our favorite virtual meeting platform feature is the Touch up my appearance tool. This allows us to even our skin tones, hide blemishes, and soften wrinkles. Most importantly, we have all heard and learned how to avoid the, 'I thought my camera and mic were turned off', ZOOM horror stories. The benefit of this is the technology has improved and people have begun to learn what to expect.
Professional speakers like myself, are taking the messages we once performed for a live audience in the room at a conference, into the virtual realm. Admittedly, a Virtual Presentation at a convention is a bit different than a face-to-face event. There are, however, more similarities in the presentation preparation, performance, and audience takeaways than there are differences. Just because it is a Virtual Presentation, it does not mean you can't create a connected and engaging experience for the audience.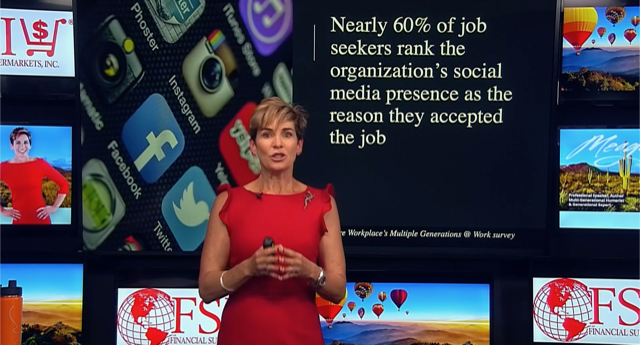 Thank you for your part in making FSI's 2021 Virtual Retail Banking Conference such a huge success. Your enthusiasm was contagious, your positivity was inspiring and your words of wisdom provided our attendees with fresh ideas on how they can better manage their branches. The information you shared based on your knowledge and real-life experiences gave the conference attendees invaluable "take-home" information.

I am sure they will remember your words not only as they evaluate their current environments but also as they review ideas and goals for the future of their branches.

Jan Heaton
VP/Senior Client Support & Training Consultant
Financial Supermarkets, Inc.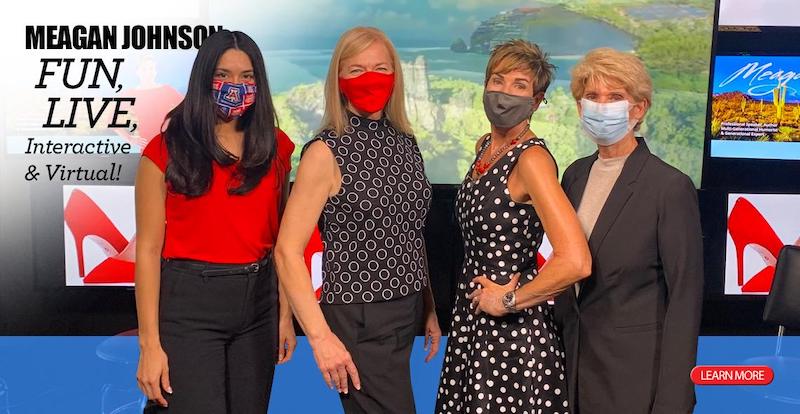 Meagan's enthusiastic and timely message launched our Women'sMulti-Generational virtual series, Pivotingin Heels. Virtual events aren't typically professionally produced like TrustBank's series, with celebrated international Authors like Meagan. Our women's series attracted viewers who joined from around the country to witness high energy! one-of-a-kind Meagan, whose presentation was not only bursting with vitality, but it was also personalized and tailored to our needs. Meagan engaged with the participants and gave us information that was pertinent as well as funny! Meagan's virtual presentation was just as entertaining and captivating as her in-person events!

Sandra HudsonTrustBank
CEO Trust and Wealth Management President, TrustBank Arizona
Virtual Presentations FAQs
Is a Virtual Presentation a pre-recorded presentation in front of a live audience?
No. My Virtual Presentations are personalized and customized events. Just like a traditional face-to-face appearance. Every client is different; therefore, no two productions are exactly alike. In preparation for the event, I provide the client with a questionnaire to distribute to the attendees prior to the meeting. The responses from the questionnaires allow me to recognize and respond to re-occurring issues audience members may be experiencing.
Additionally, I ask for a list of conference attendees to interview one-on-one prior to the event. Ideally, the interviewees vary in age and experience. The interviews provide me with corporate terminology, industry understanding, and allow me to create relatable examples. I record the interviews and with the interviewee's permission may play clips during the presentation.
Are you sitting at your desk in your home office while giving a Virtual Presentation?
No. There are too many uncontrollable variables when giving a professional presentation from home. As much as I love my dogs and my family, I do not want to hear barking in the background or see someone accidently walking past the camera in stages of undress! My Virtual Presentations are presented from a professional recording studio with an experienced engineer. The presentation will have multiple cameras, giving your audience a variety of shots. The presentation will be professionally miked and expertly lit. If you choose, we can include your company's logo in the background.
I will also record a promo video for you to use to promote your event. The video will touch upon my presentation, the benefits of attending and can include logistical event details.
See the example below: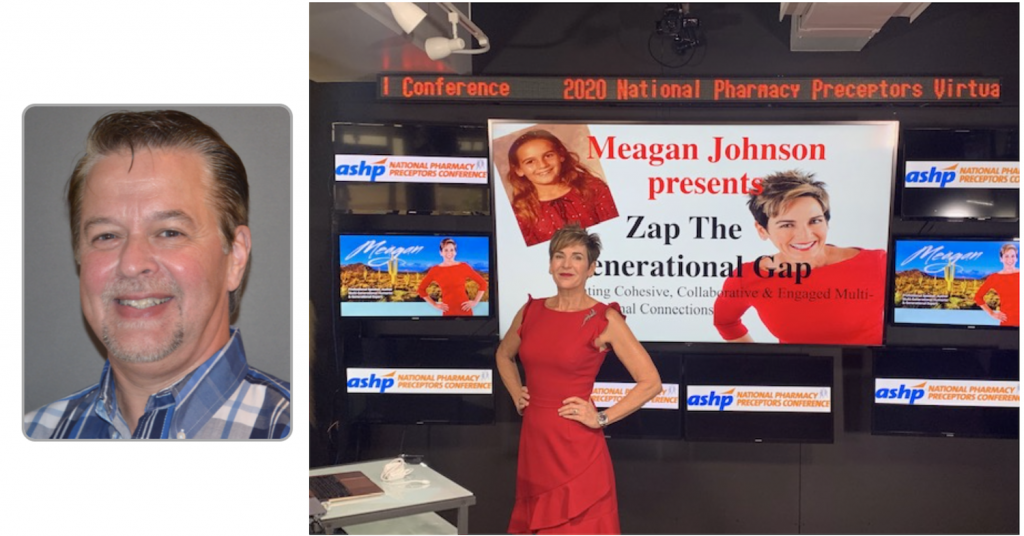 Our organization has now used Meagan as a guest speaker at 2 of our national meetings. We could not be happier with her deliverables and performance. But, the proof is always in the pudding as they say, and it is our attendee satisfaction surveys that really bring that home. I can say that the number of accolades and relevance with humor was amazing. This is what Meagan does – she takes YOUR message, adapts her talk to YOUR audience, and brings it home in spades. She delivers a meeting personalized message that is really appreciated by your audience attendees. And that, friends, is what it is all about and makes your job easier in the end. And as a bonus, Meagan is amazing to work with and cares about you and your needs. This may sound like a hokey review but I can assure you, Meagan, and I are not related, she does not owe me any money and you will be singing her praise should you have the opportunity to leverage and use her talents.

Bob Tremmel
ASHP
Can a virtual presentation be pre-recorded?
Yes, if you choose we can pre-record the presentation.
Does your Virtual Presentation include interacting with the audience?
Yes! I will interact with your virtual audience just like I interact with a face-to-face one.
A Live Virtual Event, depending on time restrictions, can include:
Generational Quizzes
Interactive Exercises
Collaboration Opportunities
Q & A
Can the audience interact with you following the program?
YES! I thoroughly enjoy hearing from attendees following all my presentations. Audience follow up can be administered several ways. During a live Virtual Conference, I can stay "on the line" following the presentation to answer audience questions. Audience members may contact me anytime following the event to discuss their challenges and share their success stories.
A Virtual Conference does not have to be a mind-numbing event. It can be interactive, energetic, and informative. It's also an effective and adaptable way to collaborate and communicate with customers, clients, and team-mates. As meetings and events continue to respond to the changing business climate, Virtual Meetings will modify along with us.
See you Virtually very soon!